Last month, we discussed the benefits of adding skylights to your home and addressed a few things you ought to know before making a buying decision. However, skylights aren't appropriate for every house, particularly if you have a large attic space. That doesn't mean you're out of luck in terms of bringing more natural light into your home. Presenting, the sun tunnel.
First thing you will want to know about the sun tunnel: they are a quick installation for contractors. And, as we advised in our previous blog, we do recommend hiring a professional for best results. Installing a sun tube means cutting a hole in your roof, among other places. A professional will be able to advise you on placement and style in addition to ensuring that the installation is conducted properly.
All told, it takes about ninety minutes to install a Velux Sun Tunnel. It's a three-step process.
Step 1: The Attic
Your sun tunnel installer will inspect the attic, take measurements, and mark where the holes in the roof will go.
Step 2: The Roof
Once on the roof, the installer will cut a hole and install the top collar, the upper portion of the tunnel, lens, and flashing.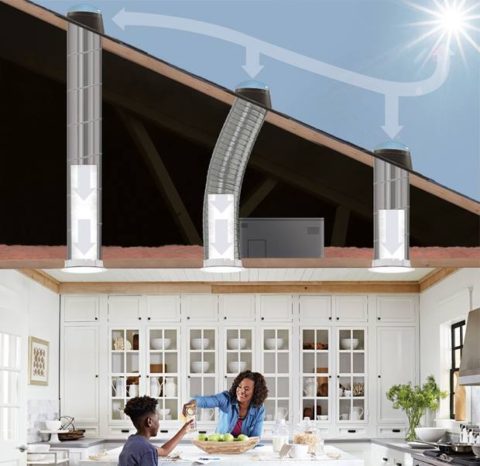 Step 3: The Interior
Back inside, your installer will cut a hole in the ceiling and install the lower portion of the reflective tunnel to connect the two holes and seal the tunnel seams. Next, they'll install the diffuser and trim ring in the ceiling.
Then, if the sun is out, your new light will be on!
You will want to determine the sort of light tunnel that makes the most sense for your home.
Velux Sun Tunnel™ Skylights are available in two different styles: the Flexible and the Rigid. Each style has its own set of benefits.
For example, the Flexible Sun Tunnel is ideal for shorter tunnel runs (the gap between the roof and the ceiling), and can easily bend around any obstructions in the attic (as the name suggests). It also helps diffuse sunlight in shorter bursts.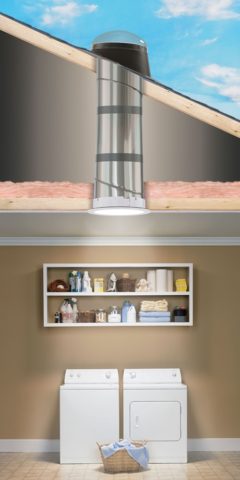 The Rigid Sun Tunnel is more ideal for longer runs and produces brighter white light. Depending upon the degree of light you want and its position in the home, the Rigid Sun Tunnel might be the better option.
If you're not sure, just give us a call. Dale's Roofing is a Featured 5-Star Installer for Velux skylights and sun tunnels, so we're here to help ensure you find the solution that makes sense for you and your home.